Matrix (1999 ITA) [1080p]
Category

Movies

Type

HD

Language

Italian

Total size

1.3 GB

Uploaded By Transea
Downloads

233

Last checked

2 months ago

Date uploaded

7 months ago

Seeders

0

Leechers

0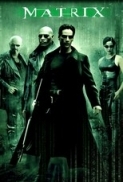 Action
Adventure
Science Fiction
Thriller
Thomas A. Anderson is a man living two lives. By day he is an average computer programmer and by night a malevolent hacker known as Neo, who finds himself targeted by the police when he is contacted by Morpheus, a legendary computer hacker, who reveals the shocking truth about our reality.



Matrix (The Matrix) è un film di fantascienza del 1999 scritto e diretto da Larry e Andy Wachowski.
Il film, che ha vinto numerosi premi, tra cui 4 Oscar, ha avuto un forte impatto culturale e vi sono state numerose opere che vi fanno riferimento. Nel 2012 è stato scelto per la conservazione nel National Film Registry della Biblioteca del Congresso degli Stati Uniti.
Il titolo deriva dal termine latino matrix (generatrice/matrice), che a sua volta ha dato origine al vocabolo inglese matrix, ovvero "matrice di numeri", un elemento di tipo tabellare derivante da strutture matematiche, molto utilizzato in informatica per associare dati, o sistemi di dati, tra loro. In questo caso, la matrice rappresenta una sorta di cyberspazio o realtà simulata creata dalle macchine.

Titolo originale: The Matrix
Paese di produzione: Stati Uniti d'America, Australia
Anno: 1999
Durata: 136 min
Rapporto: 2,35:1
Genere: Azione,Fantascienza
Regia: Larry e Andy Wachowski
Soggetto: Larry e Andy Wachowski
Sceneggiatura: Larry e Andy Wachowski
Produttore: Joel Silver
Produttore esecutivo: Larry e Andy Wachowski, Barrie M. Osborne
Casa di produzione: Warner Bros. Pictures, Village Roadshow Pictures, Groucho II Film Partnership, Silver Pictures
Distribuzione: Warner Bros. Pictures


Cast:

Keanu Reeves: Thomas A. Anderson/Neo
Laurence Fishburne: Morpheus
Carrie-Anne Moss: Trinity
Hugo Weaving: agente Smith
Joe Pantoliano: Cypher
Julian Arahanga: Apoc
Tim Cortent: Dozer
Marcus Chong: Tank
Matt Doran: Mouse
Gloria Foster: l'Oracolo
Belinda McClory: Switch
Paul Goddard: agente Brown
Robert Taylor: agente Jones
Rex Linn: agente Donner
Ada Nicodemou: DuJour

Doppiatori Italiani:


Luca Ward: Thomas A. Anderson/Neo
Massimo Corvo: Morpheus
Emanuela Rossi: Trinity
Ennio Coltorti: agente Smith
Sergio Di Giulio: Cypher
Enrico Di Troia: Apoc
Stefano Mondini: Dozer
Fabrizio Vidale: Tank
Nanni Baldini: Mouse
Vittoria Febbi: l'Oracolo
Claudia Razzi: Switch






Un hacker di nome Neo, grazie all'aiuto del misterioso Morpheus, scopre che quella per lui è la "realtà" non è altro che un facciata, un mondo virtuale creato dal super computer Matrix per controllare gli esseri umani. Ma Morpheus è convinto che Neo sia il prescelto di cui parla un'antica profezia, e che sarà in grado di guidare la rivoluzione contro Matrix.....






[ Info sul file ]

Nome: Matrix [HD] (1999).mkv
Data: Sat, 20 Jan 2018 19:24:03 +0100
Dimensione: 1,435,740,533 bytes (1369.228871 MiB)

[ Magic ]

Tipo file: data

[ Info generiche ]

Durata: 02:16:18 (8177.882 s)
Contenitore: matroska
Totale tracce: 2
Traccia n. 1: video (V_MPEG4/ISO/AVC) {und}
Traccia n. 2: audio (A_AAC) {unknown}
Muxing library: Lavf57.71.100
Writing application: Lavf57.71.100

[ Dati rilevanti ]

Risoluzione: 1920 x 800
Larghezza: multipla di 32
Altezza: multipla di 32
DRF medio: 29.304196
Deviazione standard: 5.621344
Media pesata dev. std.: 5.620518

[ Traccia video ]

Codec ID: V_MPEG4/ISO/AVC
Risoluzione: 1920 x 800
Frame aspect ratio: 12:5 = 2.4
Pixel aspect ratio: 1:1 = 1
Display aspect ratio: 12:5 = 2.4
Framerate: 23.976024 fps
Dimensione stream: 1,298,015,665 bytes (1237.884202 MiB)
Durata: 02:16:18 (8177.877976 s)
Bitrate (bs): 1269.782375 kbps
Qf: 0.034479

[ Traccia audio ]

Codec ID: A_AAC
Freq. campionamento: 48000 Hz
Canali: 2
Dimensione stream: 133,528,891 bytes (127.343074 MiB)
Tipo di bitstream (bs): AAC LC (Low Complexity)
Frames (bs): 383,336
Durata: 02:16:18 (8177.834667 s)
Chunk-aligned (bs): Sì
Bitrate (bs): 130.62518 kbps VBR
Freq. campionamento (bs): 48000 Hz
Modo (bs): 2: front-left, front-right

[ Bitstream video ]

Tipo di bitstream: MPEG-4 Part 10
User data: x264 | core 148 r2643 5c65704 | H.264/MPEG-4 AVC codec
User data: Copyleft 2003-2015 | http://www.videolan.org/x264.html | cabac=1
User data: ref=3 | deblock=1:0:0 | analyse=0x3:0x113 | me=hex | subme=7 | psy=1
User data: psy_rd=1.00:0.00 | mixed_ref=1 | me_range=16 | chroma_me=1
User data: trellis=1 | 8x8dct=1 | cqm=0 | deadzone=21,11 | fast_pskip=1
User data: chroma_qp_offset=-2 | threads=8 | lookahead_threads=8
User data: sliced_threads=1 | slices=8 | nr=0 | decimate=1 | interlaced=0
User data: bluray_compat=0 | constrained_intra=0 | bframes=0 | weightp=2
User data: keyint=250 | keyint_min=23 | scenecut=40 | intra_refresh=0 | rc=abr
User data: mbtree=0 | bitrate=1280 | ratetol=1.0 | qcomp=0.60 | qpmin=0
User data: qpmax=69 | qpstep=4 | ip_ratio=1.40 | aq=1:1.00
SPS id: 0
Profile: [email protected]
Num ref frames: 3
Aspect ratio: Square pixels
Chroma format: YUV 4:2:0
PPS id: 0 (SPS: 0)
Tipo di codifica entropica: CABAC
Weighted prediction: P slices - explicit weighted prediction
Weighted bipred idc: No
8x8dct: Sì
Totale frames: 196,073
Drop/delay frames: 0
Frames corrotti: 0

P-slices: 190852 ( 97.337 %) ###################
B-slices: 0 ( 0.000 %)
I-slices: 5221 ( 2.663 %) #
SP-slices: 0 ( 0.000 %)
SI-slices: 0 ( 0.000 %)

[ Analisi DRF ]

DRF nedio: 29.309701
deviazione standard: 5.650611
max DRF: 51

DRF=1: 1 ( 0.001 %)
DRF=2: 3 ( 0.002 %)
DRF=3: 0 ( 0.000 %)
DRF=4: 0 ( 0.000 %)
DRF=5: 0 ( 0.000 %)
DRF=6: 12 ( 0.006 %)
DRF=7: 90 ( 0.046 %)
DRF=8: 28 ( 0.014 %)
DRF=9: 24 ( 0.012 %)
DRF=10: 77 ( 0.039 %)
DRF=11: 117 ( 0.060 %)
DRF=12: 175 ( 0.089 %)
DRF=13: 317 ( 0.162 %)
DRF=14: 390 ( 0.199 %)
DRF=15: 746 ( 0.380 %)
DRF=16: 1574 ( 0.803 %)
DRF=17: 2444 ( 1.246 %)
DRF=18: 2637 ( 1.345 %)
DRF=19: 2303 ( 1.175 %)
DRF=20: 2519 ( 1.285 %)
DRF=21: 3754 ( 1.915 %)
DRF=22: 5670 ( 2.892 %) #
DRF=23: 7104 ( 3.623 %) #
DRF=24: 8040 ( 4.101 %) #
DRF=25: 9311 ( 4.749 %) #
DRF=26: 10076 ( 5.139 %) #
DRF=27: 11286 ( 5.756 %) #
DRF=28: 12606 ( 6.429 %) #
DRF=29: 13575 ( 6.923 %) #
DRF=30: 13915 ( 7.097 %) #
DRF=31: 14388 ( 7.338 %) #
DRF=32: 13450 ( 6.860 %) #
DRF=33: 12522 ( 6.386 %) #
DRF=34: 12813 ( 6.535 %) #
DRF=35: 8861 ( 4.519 %) #
DRF=36: 7112 ( 3.627 %) #
DRF=37: 6477 ( 3.303 %) #
DRF=38: 4518 ( 2.304 %)
DRF=39: 2795 ( 1.425 %)
DRF>39: 4299 ( 2.193 %)

P-slices DRF medio: 29.299515
P-slices deviazione std.: 5.638572
P-slices max DRF: 51

I-slices DRF medio: 29.682053
I-slices deviazione std.: 6.062596
I-slices max DRF: 45

[ Analisi DRF (corretta) ]

Fine titoli di testa: 00:00:25 (24.77475 s) - frames ignorati: 594

DRF nedio: 29.304196
deviazione standard: 5.621344
max DRF: 50

DRF<6: 0 ( 0.000 %)
DRF=6: 10 ( 0.005 %)
DRF=7: 90 ( 0.046 %)
DRF=8: 28 ( 0.014 %)
DRF=9: 24 ( 0.012 %)
DRF=10: 76 ( 0.039 %)
DRF=11: 117 ( 0.060 %)
DRF=12: 175 ( 0.090 %)
DRF=13: 317 ( 0.162 %)
DRF=14: 388 ( 0.198 %)
DRF=15: 737 ( 0.377 %)
DRF=16: 1564 ( 0.800 %)
DRF=17: 2442 ( 1.249 %)
DRF=18: 2635 ( 1.348 %)
DRF=19: 2303 ( 1.178 %)
DRF=20: 2516 ( 1.287 %)
DRF=21: 3748 ( 1.917 %)
DRF=22: 5662 ( 2.896 %) #
DRF=23: 7104 ( 3.634 %) #
DRF=24: 8028 ( 4.107 %) #
DRF=25: 9309 ( 4.762 %) #
DRF=26: 10069 ( 5.151 %) #
DRF=27: 11284 ( 5.772 %) #
DRF=28: 12595 ( 6.443 %) #
DRF=29: 13541 ( 6.927 %) #
DRF=30: 13882 ( 7.102 %) #
DRF=31: 14375 ( 7.354 %) #
DRF=32: 13409 ( 6.860 %) #
DRF=33: 12449 ( 6.368 %) #
DRF=34: 12763 ( 6.529 %) #
DRF=35: 8845 ( 4.525 %) #
DRF=36: 7092 ( 3.628 %) #
DRF=37: 6455 ( 3.302 %) #
DRF=38: 4481 ( 2.292 %)
DRF=39: 2757 ( 1.410 %)
DRF>39: 4209 ( 2.153 %)

P-slices DRF medio: 29.293576
P-slices deviazione std.: 5.608634
P-slices max DRF: 50

I-slices DRF medio: 29.692751
I-slices deviazione std.: 6.055296
I-slices max DRF: 45

[ Conformità al profilo ]

Profilo selezionato: MTK PAL 6000
Risoluzione: 1920 x 800 > 720 x 576
Framerate: 23.976024 <> 25
Min riempimento buffer: 2%

Rapporto creato da AVInaptic (18-12-2011) in data 20-01-2018 19:28:30





Files:
Matrix [HD] (1999).mkv (1.3 GB)
Code:
udp://tracker.coppersurfer.tk:6969/announce

udp://tracker.opentrackr.org:1337/announce

udp://tracker.leechers-paradise.org:6969/announce

udp://glotorrents.pw:6969/announce

udp://p4p.arenabg.com:1337/announce

udp://p4p.arenabg.ch:1337/announce

udp://eddie4.nl:6969/announce

udp://inferno.demonoid.pw:3391/announce

http://ipv4.tracker.harry.lu/announce

http://ipv4.tracker.harry.lu:80/announce

http://t.nyaatracker.com/announce

http://tracker.devil-torrents.pl:80/announce

http://tracker.devil-torrents.pl/announce

http://open.kickasstracker.com/announce

http://open.kickasstracker.com:443/announce

http://t.nyaatracker.com:80/announce

http://retracker.mgts.by:80/announce

http://45.33.11.224/announce

http://tracker.torrentyorg.pl:80/announce

http://pt.lax.mx:80/announce